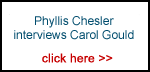 We hope that you'll feel our website is worthy enough to contribute a few pounds to the bandwidth bills.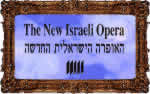 'Peace? No Chance' -- Benny Morris and his astonishing ideological turnaround
Last uploaded : Thursday 21st Feb 2002 at 17:42
Contributed by : The Editor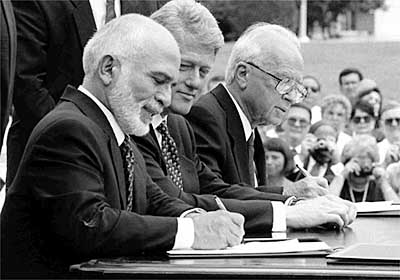 '...on a wall in the Assads' office.. a portrait of Saladin, the legendary 12th-century Kurdish Muslim warrior...I can see the father (Assad) on his deathbed, saying to his son, 'Whatever you do, don't make peace with the Jews; like the Crusaders, they too will vanish..'

'..the mufti of Jerusalem spent the war years (1941-45) in Berlin, working for the Nazi foreign ministry and recruiting Bosnian Muslims for the Wehrmacht..'

'..Ultimately, I believe , the balance of military force or the demography of Palestine will determine the country's future...Or it will become a nuclear wasteland, a home to neither people.'
--Benny Morris, 'The Guardian' 21 February 2002
*****************************
Visitors to JewishComment are urged to go to :

www.guardian.co.uk

(February 21 edition) to read this watershed article by Benny Morris. Described by 'The Guardian' newspaper as 'the radical Israeli historian who forced his country to confront its role in the displacement of hundreds of thousands of Palestinians,' Professor Morris makes a U-turn and lays out his grim blueprint for a doomed Israel.

There are three issues on which JewishComment would like to reflect. First, Prof. Morris joins the chorus of those who condemn Yasser Arafat as a liar and deceiver. Those of us who lived in Israel in the aftermath of the Rabin assassination, and who were also there a year later when Arafat, despite being shunned by Prime Minister Netanyahu, participated in the national day of Yahrzeit, still have a glimmer of faith in this deeply complex and contradictory figure. It is hard to believe that Arafat's trip to Leah Rabin's apartment to pay his condolences was part of a grand plan to deceive the Israeli people and the world about his true motives. When Susanna Mubarak, Suha Arafat, Leah Rabin, Hillary Clinton and Queen Noor became the ladies-who-lunch, it seemed as if the 'New Middle East' was becoming a reality. This may be a supremely naive, 'Daily Mirror'- style summation of the 'situation that was,' but lest we forget that it was a religious Jewish Israeli, and not the Tanzim or Hamas, who killed the peace process by killing Yitzhak Rabin. (He would probably have died of heart failure anyway from the merciless browbeatings he was getting every day from his own people, and from the loud, hate-filled demonstrations outside his flat every Shabbat.)

Second, Prof. Morris refers to the figures of the 790 Arab and 270 Israeli deaths in the current Al Aqsa Intifadah. Although throughout the article his heart is in the right place, he fails to point out that nearly 1,000 suicide bombings have been averted by the men and women of the Israeli security services since September 2000, and had even ten percent of these succeeded, the figures of Israeli dead would have far exceeded those of Arabs. Many will argue that 'Israeli reprisals would have been ten percent more deadly in turn,' but the crux of the matter is that there is something deeply distressing in Palestinian society that encourages youngsters to kill themselves, however worthy their cause, and then exalts them as martyrs. One hopes that the children of a future Palestinian state will be taught by their parents to value and love life, as were generations of Jewish children over centuries in the ghettoes of Europe.

Third, Prof. Morris is fearful that the establishment of a Palestinian state, even on Arafat's terms, will create more violence for Israel. Sadly, his prediction is likely to be accurate. But the level of violence in the north of Israel has dropped since the withdrawal from Lebanon, with any violations thereof by Hezbollah swiftly condemned by the UN and the EU, and one must hope that peace would prevail if the conflict ends.

Notwithstanding our reflections, this is an important article that should be read by anyone concerned with the destiny of the Jewish State.