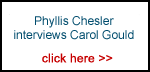 We hope that you'll feel our website is worthy enough to contribute a few pounds to the bandwidth bills.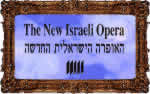 The Wonderful Phyllis Chesler
Last uploaded : Monday 18th Feb 2008 at 13:34
Contributed by : Phyllis Chesler
We are reprinting one of our very special features:

October 15, 2007

The Chesler Chronicles
by Phyllis Chesler

INTERVIEWS WITH EXTRAORDINARY PEOPLE. CAROL GOULD: PRO-AMERICAN, PRO-ISRAELI, WHO LIVES IN LONDONISTAN FOR COMIC RELIEF

Carol Gould is a very funny woman. She is as witty as she is heartbreaking and she is quintessentially theatrical. When I first met her, I found myself laughing out loud as she shared the most painful details of her expatriate London life. I suggested that she take her show "on the road." Gould's hilarious imitations of her various self-righteous sparring partners in the British media would alone be worth the price of admission.

Read the whole interview here:

http://pajamasmedia.com/xpress/phyllischesler/2007/10/15/interviews_with_extraordinary.php .