Book Carol Gould to Speak.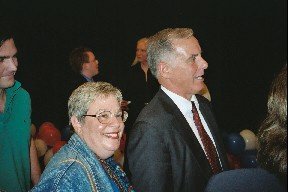 'Carol Gould with Dr Howard Dean, London, June 2004.'
Carol Gould is available for lectures, panels and media appearances. Her speciality subjects are the British National Health Service and the plight of the disabled. Please email: carol@currentviewpoint.com.
Carol Gould was an executive with Anglia Television Drama for the British ITV network for over a decade. The many programmes she commissioned were broadcast in one-hundred countries.
She was a Phi Beta Kappa graduate of Temple University in Philadelphia and went to Great Britain in 1976 to take up a place in a postgraduate programme in film studies. She was a student of the legendary documentary producer Edgar Anstey. Her research project focussed on the history of Joan Littlewood's Theatre Workshop Stratford East.
Her first position in theatre was Administrator of the Almost Free Theatre, where 'The Irish Hebrew Lesson' by Wolf Mankowitz and 'My New Found Land' by Tom Stoppard debuted. Her play 'A Chamber Group' premiered at the Edinburgh Festival in 1980 and she went on to Anglia TV, where her credits as Script Editor included the PD James thrillers, the Eric Ambler and Somerset Maugham adaptations and plays by Terence Rattigan, John Mortimer and Malcolm Bradbury.
Since 1992 Carol has been a documentary producer . She says her departure from drama occurred the moment Yitzhak Rabin was shot. The real world needed to be documented. She has produced 'Long Night's Journey Into Day' about Rabin, which premiered at the Berlin Festival in 1997, and 'An African in London;' 'Millennibabes;' 'Meetings with Remarkable Women;' 'Benjamin Franklin's House;' 'The Bevin Boys;''The Evacuees;' 'The Jewish Evacuees' and 'Pansy and Her Brother: entertainers in the Blitz.' Carol has had some forays into drama, producing 'The Song of Deborah' by Debbie Freeman at the Cockpit Theatre.
Her play 'A Room at Camp Pickett' about her late mother's experiences as a WAC during World War II and segregation in the US military, premiered in London in 2004.
Carol established 'Current Viewpoint' in 2001 and has also been published in 'The Guardian,' 'The Weekly Standard,' Jewish World Digest,' 'New Media Journal US' and 'FrontPage Mag.' Her book, 'Spitfire Girls,' about the 180 women pilots of Air Transport Auxiliary during World War II, was published in the UK in 1998. Carol wrote the foreword to the 2005 re-issue of Pierre van Paassen's 'The Forgotten Ally' and her new book, provisionally titled 'Don't Tread on Me' will be published in the UK in 2008 by Social Affiars Unit and by Encounter Books in the USA. She was a broadcaster on London Spectrum Radio for three years and has appeared on BBC 'Any Questions?' hosted by Jonathan Dimbleby and on 'Culture Clash' hosted by Peter Whittle.
She is a member of BAFTA (British Academy of Film and Television Arts); the NUJ (National Union of Journalists); the White House News Photographers Association; the Writers' Guild of Great Britain; the Royal Society of Authors, the US Army Association and the National Press Club of Washington.
Samples of Carol's political writing may be found here: